Tyre Service & Repairs Center in Melbourne CBD & Carlton
You need to always be cautious about your tyre. You need to keep the perfect tyre pressure and tread width because any complacency in your part will put you in big trouble. You might be stranded due to tyres wear and tear. Under inflated or bulged tyres or uneven tread widths tyres can be fatal. Tyres under correct pressure and even treads give you better mileage and enhance the safety of your vehicle. We don't just find you the right tyres at the best price, we also ensure they are professionally fitted with professional and cost effective service across Docklands, Carlton, North Melbourne, West Melbourne & Melbourne CBD.
Melbourne's Perfect Tyres Service Center
We at Melbourne tyre shop check your car's tyre pressure and the tread width of your tyre by using the latest tools by our tyres fitting center. All of our tyres are balanced by our tyre fitting technicians when they fit them to your wheels. We replace bald and puncture under inflated tyres. You can save an incredible amount of time when you contact us for mobile tyre fitting service. You won't have to spend hours waiting at another service shop during your lunch break or on the weekend. To stop dangerous vibrations, we rotate and balance your tyres.
We provide the following tyre services –
Tyre replacement
Tyre puncture and repair service
Tyre rotating and balancing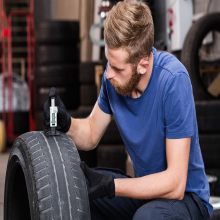 If you have any other questions, please contact us