How to Choose the Best Tyre Repair Shop to Serve You in Melbourne?
If you are a car owner, you will know the benefits of servicing your car regularly and how beneficial it is for your vehicle. The same applies to the vehicle's tyres, as well. As tyres are the only crucial component of a vehicle that comes in contact with the road's surface directly, one should ensure that the tyres are maintained properly to prevent any wear, tear, or unexpected damage. A flat tyre, while you are on a long trip, can be stressful.
Finding a professional car mechanic or a tyre shop in Melbourne that performs wheel alignment and balancing, tyre repairs, and other tyre services are essential. An expert auto mechanic centre in North Melbourne and Western Melbourne will have a checklist to ensure all services are covered under tyre repairs and services. Read on to know how to choose the best tyre repair shop to serve you in Melbourne with minimum turnaround time and at the most affordable price: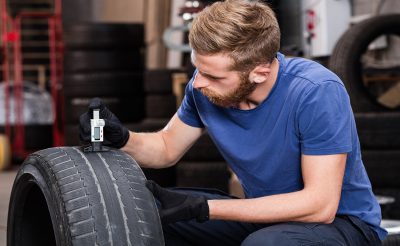 Checklist to Choose a Professional and Affordable Car Tyre Repair Centre in Melbourne
While choosing a car mechanic in North Melbourne for your car tyre repair services, ensure that they provide the following checks:
Tyre Tread Check:
Poor Alignment/ Under inflation: By checking tyre wear and inflation pressures
Irregular Tyre Wear: By checking for proper alignment of wheels
Worn Shock Absorbers: By checking for the proper functioning of the shock absorbers
Wheel Imbalance: If the wheels are aligned and balanced, and whether they must be replaced
Under Inflation: By checking for any leaks
Over Inflation: By checking if the pressure is according to the manufacturer's specifications
Tyre Check:
Whether there are stones, nails, or other debris embedded in each tyre. This will verify if scraping or kerbing had taken place.
The sidewalls of the tyres are checked for deep scuffs, slits, holes, or if it is worn out.
Checking of the tyre's pressure. Proper tyre pressure is required to ensure brake balance, maximum brake power when applied, and maximum grips, along with improved longevity of the tyres. Improper tyre pressure may result in rapid wear and tear of tyres.
The Importance of Wheel Alignment and Balancing Services in North Melbourne
Wheels tend to lose their balance over time. It is important to hire a professional auto mechanic to perform your wheel alignment and balancing regularly. The following are the major reasons why proper wheel balancing and alignment are important:
Improves Fuel Efficiency: If the wheels are not aligned properly, the vehicle's engine must function harder to ensure that the vehicle propels forward. This, in turn, reduces your car's fuel efficiency significantly.
Reduces Costly Automobile Repairs: A bad alignment affects car components and causes uneven and premature wear. Every single bump in the event of a pothole on the road will cause a serious impact on your steering and suspension systems, and in turn, can lead to a breakdown.
Promotes a Smoother and Safer Driving: Bad alignment leads to inefficient driving, even when the steering is placed in the right direction. Proper alignment prevents any of these issues and promotes a safer and smoother driving experience.
What Next? Call the Expert Car Mechanics in Melbourne Right Away!
Be it wheel alignment and balancing, tyre tread, tyre repair services, or a complete auto mechanic service in Melbourne, Victorian Tyre Services is your perfect choice. Over 2 decades of expertise in the automobile industry has made us the most sought-after auto mechanic centre in Melbourne. Call us on 03 9329 6299 to talk to our auto mechanic experts and get your tyre repair serviced for the most competitive prices in Melbourne. Also, grab your free, no-obligation quote right away!